Weekly Roundup – Town Meeting Edition – 05/05/2019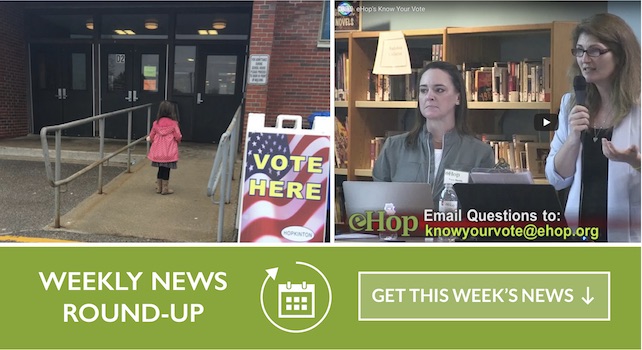 Annual Town Meeting 2019
Begins Monday, May 6 at 7:00-11:00 PM
Hopkinton Middle School Auditorium
There are 55 articles to vote on in the warrant this year. Town meeting will repeat the following evenings 7:00-11:00pm until all the articles are voted. We expect Town Meeting to last at least 2 evenings. As usual eHop will be covering Town Meeting live on social media to let you know the results of each vote as it happens. Follow us @eHop01748 and look for the hashtag #HopTM19. New this year, we'll have a SnapChat Geofilter you can use when you chat with friends about Town Meeting.
eHop's Know Your Vote held at HHS Library on April 29
State Historical Commission supports efforts to save Hopkinton home
The Massachusetts Historical Commission supports an effort in town to create a single-property historic district aimed to save a historic home on Main Street.
The Historical Commission and the Historic District Commission are sponsoring a Town Meeting article to create the Aaron and Lucy Claflin House Historic District. The Historical Commission imposed a six month demolition delay, which expires on July 4.
"It is the fourth oldest structure in town," said Michael Roughan, chairman of the Historical Commission, at a forum Monday night hosted by eHop.
https://hopkinton.wickedlocal.com/news/20190430/state-historical-commission-supports-efforts-to-save-hopkinton-home
Hopkinton Town Meeting to weigh $93M budget, new firetruck
Town Meeting voters will weigh an operating budget of more than $93 million for fiscal year 2020 and consider money for a dog park and a school bus parking lot. The largest capital expense is $1.2 million for a new ladder truck for the Fire Department in Article 25. It will require a debt-exclusion vote at the town election.
The annual meeting starts at 7 p.m. Monday at Hopkinton Middle School, 88 Hayden Rowe St. Residents will consider 55 articles.
https://hopkinton.wickedlocal.com/news/20190501/hopkinton-town-meeting-to-weigh-93m-budget-new-firetruck
Town Meetings Get Remote Voting Option in North Andover, Mass.
Residents can weigh in on pressing town business without actually attending through a Google form being tested by officials. The votes will not carry any weight in the passage or denial of items.
"North Andover continues to be a laboratory for what Town Meeting may be like in the future. One sometimes hears that Town Meeting does not represent the opinion of the citizenry at large," DiSalvo said in a statement announcing the new idea. "In order to test this presumption, I will be conducting a survey inviting the public to state their opinion on each article whether they attend Town Meeting or not. Comparative results will be published post the adjournment of the meeting."
https://www.govtech.com/gov-experience/Town-Meetings-Get-Remote-Voting-Option-in-North-Andover-Mass.html
Hopkinton selectmen candidates debate town growth, budget
Democratic selectman candidate Shahidul Mannan thinks the board should take a strong role in guiding the town's growth. But other candidates contend the board only has so much say.
For the past several years, an influx of new homes has put stress on the schools, public safety and other town departments.
"I think it is very critical that we have a comprehensive strategic plan and a detailed roadmap on how we are going to manage this growth," Mannan said during a debate alongside three other candidates running for selectman at the HCAM-TV studio Wednesday night.
But incumbent Selectman Claire Wright, a Republican who is seeking her second term on the board, said it's the role of the Planning Board to develop the master plan. Selectmen manage the budget, town services and control the tax rate, she said.
https://hopkinton.wickedlocal.com/news/20190502/hopkinton-selectmen-candidates-debate-town-growth-budget
---