Weekly Roundup – 06/30/2019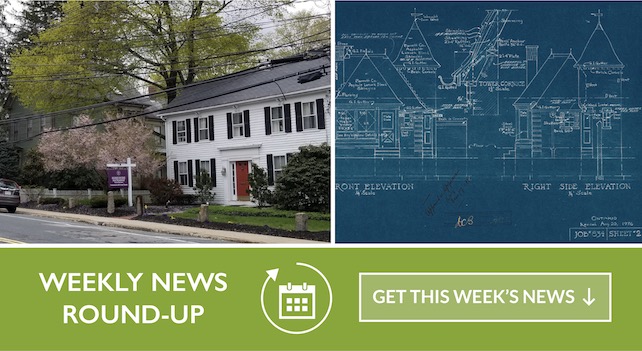 Hopkinton's Claflin house district OK'd by state • Four MetroWest towns doing fair share to add housing • Five items on local businesses for June 26, 2019 • Ashland wetlands expert calls for Eversource to revise its gasline plan • Commuters say backups at I-90/495 interchange frustrating, eager for upgrades • Design Review Board Vacancies • Roadwork Notice: Summer 2019 • Chamber of Commerce: Important News from the Hopkinton Police Department • Hopkinton hopes to create a center expanding Boston Marathon fame
Hopkinton's Claflin house district OK'd by state
With a demolition delay ending next week for a prominent historic home on Main Street, the state Attorney General's office has approved the town's plan to create a single-property historic district aimed at saving the structure.
The state also approved a measure extending the town's demolition delay bylaw from six to 18 months. The amendment applies to all pending demolition delays, according to the new bylaw.
https://www.metrowestdailynews.com/news/20190629/hopkintons-claflin-house-district-okd-by-state
Four MetroWest towns doing fair share to add housing
Boxborough, Hopkinton, Littleton and Sudbury are on that list for what the foundation measured as communities' recent track record of permitting for new housing compared to its existing housing stock. Of 147 communities across the region, 19 made the foundation's distinction of building enough homes — or doing their fair share, as the foundation put it.
https://www.wbjournal.com/article/four-metrowest-towns-doing-fair-share-to-add-housing
Five items on local businesses for June 26, 2019
Important aspects and service offerings from five local businesses are included here..
https://hopkinton.wickedlocal.com/news/20190626/five-items-on-local-businesses-for-june-26-2019
Ashland wetlands expert calls for Eversource to revise its gasline plan
When it comes to Eversource's plan to replace a nearly four-mile gas line that runs through the town's wetlands, the town's expert is calling on the company to be more thorough and detailed in its analysis and plans.
In March, the Conservation Commission chose Lucas Environmental LLC to examine Eversource's Notice of Intent and Stormwater Management Permit applications for its project to replace 3.71 miles of 6-inch piping in Hopkinton and Ashland. About 2.6 miles of those pipes lay within Ashland and goes beneath more than 80 residential parcels and a number of environmentally sensitive areas.
https://ashland.wickedlocal.com/news/20190625/ashland-wetlands-expert-calls-for-eversource-to-revise-its-gasline-plan
Commuters say backups at I-90/495 interchange frustrating, eager for upgrades
Commuters say the interchange of I-90 and I-495 is poorly designed as constructed and are eager for a planned improvement project that will improve safety and reduce congestion.
https://www.metrowestdailynews.com/news/20190625/commuters-say-backups-at-i-90495-interchange-frustrating-eager-for-upgrades
Design Review Board Vacancies
The Planning Board is seeking individuals interested in serving on the Design Review Board. Applications are due July 19. Design Review is appointed annually for one-year terms that run from August 1 to July 31.
Roadwork Notice: Summer 2019
Roadwork is scheduled to begin on the following streets (included in the link below). All work is weather pending and dates may need to be moved forward as needed. Work hours will be approximately 7am-5pm.
http://www.hcam.tv/news/roadwork-notice-summer-2019
Chamber of Commerce: Important News from the Hopkinton Police Department
The Hopkinton Chamber of Commerce has just been asked by the Hopkinton Police Dept. to inform our members of two very time sensitive items…(Links to the letter and bulletin are included here)
http://www.hcam.tv/news/chamber-commerce-important-news-hopkinton-police-department
Hopkinton hopes to create a center expanding Boston Marathon fame
Hopkinton officials and the nonprofit 26.2 Foundation hope to create a similar experience to Cooperstown, New York, with an International Marathon Center, which will include, a museum with interactive exhibits, hall of fame, classrooms and a conference center.
https://hopkinton.wickedlocal.com/news/20190617/hopkinton-hopes-to-create-center-expanding-boston-marathon-fame
---