Weekly News Roundup – 07/05/2020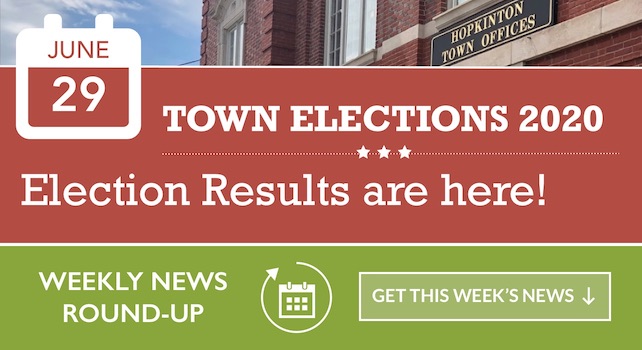 Covid-19 Updates & Precautions • Town Election Results • Current Drought Status • Senior Snippets: Senior Center offers online programs • Hopkinton deals with hate • Library Accepting Returns & Curbside Pickup on a Limited Basis ~ Offering Fine Amnesty • Residents push Select Board to address racism • Select Board Actions Taken – 07/02/2020 • Planning Board Actions Taken 06/22/20
---
Covid-19 Updates & Precautions
This page provides information, maps and resources about the coronavirus response in our local area.
Visit Hopkinton, MA – Coronavirus Response Hub
As of 7/3/20, Hopkinton's Health Department is reporting 128 total confirmed COVID-19 cases; 7 of those cases are active, with 108 recoveries and 13 deaths. You can see historical tracking and updates on Hopkinton's Community Impact Dashboard
The most recent update from July 3rd includes:
July 4th Holiday Update
Town Hall and Municipal Offices are closed on Friday July 3rd, in observance of Independence Day. The Hopkinton Recycling Center will be closed on Saturday July 4, 2020. The library book drop will be closed and returns will NOT be accepted from 4:30 pm on Thursday 7/2 until 9:30 am on Monday 7/6.
The update from July 1st includes:
Updated Travel Guidelines
Massachusetts Department of Public Health COVID-19 weekly Public Health Report
July 4th Holiday – New Info
Library Now Accepting Returns, Beginning Curbside Pickup
Town Election results
2,543 voters cast ballots on June 29, which is a turnout of about 20%, up slightly from last year's turnout rate of 18%. Winners in contested races were Ritterbusch for Select Board, and Markey and Batlle-Rafferty for School Committee. Thank you to all candidates who stepped up to run this year!
RELATED ARTICLE:
Ritterbusch wins Select Board seat
It was a good night for Democrats overall, as Joe Markey and Lya Batlle-Rafferty won the two open seats on the School Committee. They beat out Republican Dawn Ronan for the seats being vacated by Meena Bharath and Jen Devlin. Markey finished with 1,826 votes, Batlle-Rafferty amassed 1,565 and Ronan garnered 1,077.
Ritterbusch said one of her primary goals will be to improve "communication and transparency — making sure the public understands, like the financial situation we're in due to COVID and if we have to delay things or cut things that they understand what our choices are. I want to make sure we're communicating that to the public so they're not surprised."
Current Drought Status
Hopkinton had been declared Level 2 drought status by the state.
Early in 2020, above normal temperatures and near-normal precipitation caused dry conditions on and off in some parts of the state until a wet April. However, that was not sufficient to allow for a full recovery of groundwater levels which are critical to sustain streamflow in the summer. In May, all of the state except for the Islands experienced a significant precipitation deficit for the month, especially in the Western, Central, Northeast and Cape Cod Regions.
https://www.mass.gov/service-details/current-drought-status
Senior Snippets: Senior Center offers online programs
The Hopkinton Senior Center remains closed to the public, but the staff remains available to assist residents.
The Hopkinton Senior Center Outreach Department continues to be available to seniors and residents in town during the pandemic. The department is working with many organizations in town, including the Knights of Columbus, to facilitate food shopping and medical rides. Outreach can be reached by phoning the Senior Center at (508) 497-9730 and leaving a message.
Hopkinton deals with hate
While many have banded together in an attempt to become more socially aware and fight bias and racial injustice, seeking to build on the burgeoning Black Lives Matter movement, others have shown this town has a lot of work to do to drive out insensitivity, discrimination and even hate from within its borders.
On June 23, the Hopkinton Public Schools sent an email to schools families addressing "offensive and racist comments on social media" by "a few" students from Hopkinton Middle School and Hopkinton High School.
One day earlier, racist and homophobic graffiti was found at Sandy Beach. Police Chief Joseph Bennett said that an investigation was ongoing and no charges had been filed as of June 23. The same day, graffiti was discovered at EMC Park, including an expletive that had been spray-painted on the playground sign.
Library Accepting Returns & Curbside Pickup on a Limited Basis ~ Offering Fine Amnesty
We estimate that there are nearly 8,000 Hopkinton Library items out in the community waiting to be returned! Thank you for your patience as we have been working on plans to accept these items back into the library efficiently and safely. We are pleased to announce that we will now be accepting returns on a limited basis.
Starting Monday, June 29, through Thursday July 2, the book drop will be open for returns from 9:30 am to 4:30 pm each day. The book drop will be closed for returns for the 4th of July holiday starting Thursday July 2nd at 4:30 pm.
View Important information here
Residents push Select Board to address racism
During the public forum portion of Thursday's Select Board meeting, three residents called attention to current high-profile societal issues and how Hopkinton is dealing with them.
Select Board Actions Taken – 07/02/2020
7:02 PM REORGANIZATION OF THE SELECT BOARD
1. The Select Board will select a Chair and Vice Chair for the next year.
The Select Board selected Brendan Tedstone as Chair. (4-0-1)

The Select Board selected Irfan Nasrullah as Vice Chair. (4-0-1)
7:10 PM CONSENT AGENDA
3. i. MINUTES – The Select Board will consider approving the Minutes of the 6/16/2020
Select Board meeting.
ii. RESIGNATION
The Select Board will consider accepting the resignation of Jaime Goncalves from the
Lake Maspenock Weed Management & Control Citizen Advisory Group.
iii. GIFTS
The Select Board will consider accepting the following gifts:
a. $200.00 to the Ambulance Fund from Judith Breault, Glen Rock, NJ.
b. $250.00 from Hopkinton resident Jennifer Keeler to support the purchase of
additional library materials.
Supporting Exhibit: Breault Gift; Jaime Goncalves Resignation Letter
The Select Board approved the Consent Agenda. (5-0)
Read more about the Select Board Meeting on 07/02/20
Planning Board Actions Taken 06/22/20
Legacy Farms North Form K Lot Release Approved and other Legacy Farms updates, Saddle Hill Scenic Road and Private Sidewalk Concerns, Frankland Road Solar Stormwater Management Permit Approved, but Special Permit Continued to 7-13-20 meeting.
---