Weekly News Update – 02/20/2022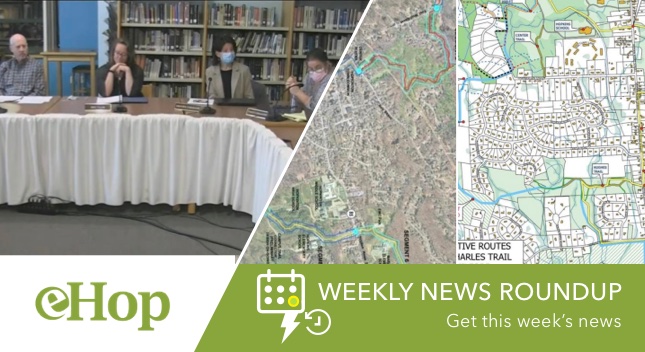 Update: Town Election Candidates 2022 • 2022 ANNUAL TOWN MEETING & FY23 BUDGET TIMELINE • Learn more about the Zoning Articles proposed for Town Meeting 2022 • Did You Know? Trustees of School Fund • HMS principal: Students have made 'inappropriate, unkind, racist comments' to each other • Tensions high at School Committee meeting despite calls for unity • School Committee votes 4-1 to drop mask mandate on Feb. 28 • Monthly trail volunteer day March 5 at Whitehall Conservation Area • Parks & Rec roundup: Turf field project gets go-ahead from Conservation Commission • Select Board roundup: Town's COVID numbers still high; Lykan TIF moves forward; Center School update provided • UCTC divided over trails plan after suggestion of Hayden Rowe 'realignment' • School Committee duo cleared after open meeting law complaint • Town Democratic and Republican town committees to caucus this month • Older students with disabilities develop business skills via Niche Hop Shop
---
Update: Town Election Candidates 2022
Considering running for local office, but don't know where to begin? To become a candidate a person must either obtain and submit nomination papers by securing the signatures of 50 Hopkinton registered voters by Tuesday, March 28, 2022 or a person may qualify by being the top vote-getter in one of the town political party caucuses, which are typically held in early April. Nomination signature papers are available from the Town Clerk's office (18 Main St) starting January 18, 2022. Please email or call the Town Clerk's office with questions at townclerk@hopkintonma.gov 508-497-9710.
Click on the name of any elected office listed below to read more about it.
RELATED: 
Notice of Town Board & Committee Vacancies
Did You Know? Trustees of School Fund
The Trustees of the School Fund is a private 501(c)(3) non-profit foundation in Hopkinton, MA, which was founded in 1993. Trustees are appointed at Hopkinton's Annual Town Meeting. Recent grants funded by the Trustees include Sensory Tables for Kindergarten classrooms and a Math Preview Pilot Program.
2022 ANNUAL TOWN MEETING & FY23 BUDGET TIMELINE
Budget season for 2022-23 is already underway – we'll keep our timeline updated as the year progresses so you can follow along.
View Timeline and Related Articles
Learn more about the Zoning Articles proposed for Town Meeting 2022
The Planning Board of the Town of Hopkinton held a public hearing on Monday, January 31, 2022 at 7:00 P.M., on proposed amendments to the Zoning Bylaws. The subject matter of the proposed changes is below. This hearing was held pursuant to the provisions of Chapter 53 of the Acts of 2020, as amended.
HMS principal: Students have made 'inappropriate, unkind, racist comments' to each other
There have been multiple issues at Hopkinton Middle School where students have made "racist comments to one another" this school year, Principal Alan Keller said Thursday during an appearance before the School Committee.
Keller was appearing before the committee to discuss the school's program of studies when a woman in the audience called out to ask if there were changes addressing racism and bullying.
Tensions high at School Committee meeting despite calls for unity
There were some tense moments at Thursday night's School Committee meeting — even before the vote to lift the mask mandate starting Feb. 28.
As Nancy Cavanaugh gave her report as chair, she mentioned that the number of emails received spiked after Gov. Charlie Baker's announcement that the statewide mandatory mask policy would be rescinded on Feb. 28. She noted that there was "a clear majority" asking that the mask mandate be ended in town.
Member Meg Tyler asked to make a comment about the count of public comment emails, saying that a petition about the choice to recommend that only state and federal holidays be included in the school calendar was omitted. She said there were 25 emails in favor of this as well as 25 signatures on the petition. The calendar was voted in at the last regular School Committee meeting. Eleven emails were in support of including other cultural holidays.
School Committee votes 4-1 to drop mask mandate on Feb. 28
The School Committee at its Thursday night meeting voted to discontinue the school mask mandate policy on Feb. 28 by a 4-1 vote. Because of a federal mandate, masks still will be required on school buses.
Before reaching its decision, committee members considered the sharp decline in the number of student cases since the beginning of the month as well as the results of an online survey conducted by student representative Jessie Ianelli along with teacher opinions. They also heard from Board of Health Director Shaun McAuliffe, who spoke about the move toward personal responsibility as society moves from a pandemic to endemic stage.
RELATED VIDEO: 
The Hopkinton School Committee voted last night to make masks optional in schools on February 28. The full meeting video is available on YouTube
Monthly trail volunteer day March 5 at Whitehall Conservation Area
The Hopkinton Trail Coordination and Management Committee (TCMC) and the Hopkinton Trails Club have created a monthly trail volunteer day on the first Saturday of each month from 9 a.m.-noon. The March monthly trail volunteer day is March 5 at the Whitehall Conservation Area (limited parking; additional parking is available at the Whitehall boat ramp).
Parks & Rec roundup: Turf field project gets go-ahead from Conservation Commission
Fruit Street Turf Field
Parks & Recreation Department Director Jay Guelfi and Commission Chair Dan Terry met with the Conservation Commission last week to discuss findings from Weston & Sampson, the town's engineering firm. The Department of Public Works had commissioned the study due to concerns about potential PFAS exposure at the Fruit Street turf fields. After reviewing the findings, Guelfi reported that the Conservation Commission feels "comfortable with the project going forward."
Pedestrian Connectivity Survey results reviewed
Planning Board Chair Gary Trendel presented the results of the board's Pedestrian Connectivity Survey to members of the commission. The objectives of the survey included the following: understand the underlying preferences and needs related to non-vehicular connectivity of Hopkinton residents; provide a basis for the Hopkinton pedestrian connectivity plan; and produce data that will help prioritize sidewalk/trails investments and help build advocacy for proposed investments at the 2023 Annual Town Meeting.
Select Board roundup: Town's COVID numbers still high; Lykan TIF moves forward; Center School update provided
During his COVID-19 update to the Select Board on Tuesday, Health Director Shaun McAuliffe announced that he and his staff "continue to observe improvement in the Town of Hopkinton," but the town still has a ways to go to get to a point where he would recommend lifting restrictions.
In its latest report — which McAuliffe noted does not include home test results — the Massachusetts Department of Public Health (DPH) reported 91 cases in town through the first 10 days of February.
RELATED:
Select Board Actions Taken 02/15/2022
UCTC divided over trails plan after suggestion of Hayden Rowe 'realignment'
School Committee duo cleared after open meeting law complaint
In a special meeting of the School Committee on Tuesday night, members Joe Markey and Meg Tyler were cleared of an allegation brought forth at the Feb. 3 meeting that they violated open meeting law by holding a Zoom meeting on Jan. 30 regarding the district's mask policy with a resident who is considering running for the committee.
On Feb. 1, School Committee Chair Nancy Cavanaugh and the superintendent met with attorney Nancy Campany for guidance before the School Committee meeting during which the complaint was raised.
Town Democratic and Republican town committees to caucus this month
The town's Democratic and Republican town committees will meet this month to elect delegates to the state conventions.
The Hopkinton Republican Town Committee will meet Thursday, Feb. 24, at 7 p.m. in the Parish Center of St. John the Evangelist Church (20 Church Street). The snow date is the following day.
The Republican State Convention is May 22 in Springfield.
Older students with disabilities develop business skills via Niche Hop Shop
Older students with disabilities in the Hopkinton Public Schools are finding their niche in the community by participating in an innovative business selling T-shirts and other items through the district's 18-22 program.
The Niche Hop Shop store grew out of the 18-22 program, according to Katie Hibbert, a special education teacher. The 18-22 program, located at what is known as the "white house" in front of the middle school, exists to help students with disabilities gain a variety of job and life skills.
---