Weekly News Update – 05/22/2022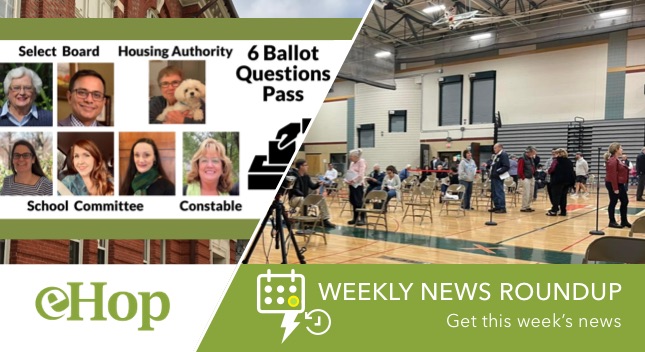 TOWN ELECTION 2022 – Results • Select Board roundup: Ritterbusch new chair; fire stations' future discussed • Town of Hopkinton Invites Residents to Complete Survey on Annual Town Meeting • School Committee roundup: Testing rescheduled for many students due to COVID surge • Public Notice: Water Use Restriction • Aerial mosquito insecticide applications planned across town • Update from Hopkinton Health Department: Covid-19 community level is High • Main  Street Corridor Project – Weekly Update
---
TOWN ELECTION 2022 – Results 
2214 voters cast ballots on May 16, which is a turnout of about 17%. This was a big increase from last year's turnout of 6%, but less than 2020 when turnout was 20%. Winners in the contested races were Shahidul Mannan and Mary Jo LaFreniere for Select Board, Nancy Cavanaugh, Holly Morand and Jennifer Devlin for for School Committee, Nancy Drawe for Housing Authority and Beth Malloy for Constable.  All six ballot questions passed.
RELATED:
Select Board roundup: Ritterbusch new chair; fire stations' future discussed
Amy Ritterbusch was unanimously elected chair of the Select Board at Tuesday's meeting, with Mary Jo LaFreniere unanimously chosen as vice chair.
Fire stations' future discussed
Travis Miller of Criterion Associates made a presentation to the board regarding a study of the public safety buildings — specifically the town's two fire stations (the headquarters on Main Street and the substation on Wood Street).
HPTO carnival approved
Erin Graziano, representing the Hopkinton Parent Teacher Organization (HPTO), appeared before the board to ask for an entertainment license for a carnival in the high school parking lot from June 23-26, run by Fiesta Shows.
Town of Hopkinton Invites Residents to Complete Survey on Annual Town Meeting
The Town of Hopkinton is working to better understand residents' feelings about Hopkinton's Annual Town Meeting and gather feedback about possible modifications to Town Meeting logistics or procedures that may help to increase participation in the town's legislative body.
RELATED: Public Survey on Annual Town Meeting
The survey is open to all adult residents of Hopkinton no matter if they are a registered voter or have attended Annual Town Meeting. The survey will remain open through Friday, June 3.
School Committee roundup: Testing rescheduled for many students due to COVID surge
The impact of COVID-19 continues to be felt in Hopkinton Public Schools. At Thursday's School Committee meeting, Superintendent Carol Cavanaugh reported the number of students and staff with COVID at each school as follows: 19 students and six staff at Marathon, six students and one staff at Elmwood, 64 students and six staff at Hopkins, 35 students and five staff at the middle school, and 54 students and eight staff at the high school.
Carryover vacation days approved
Later in the meeting, Cavanaugh asked that administrators be allowed to carry over a total of 15 vacation days from a previous year. This practice, for 2022-23, means an additional five days over last year's carryover allowance.
Nature's Classroom trips approved
The committee also approved a request for Grade 6 and Grade 7 students to travel to Freedom, New Hampshire, for the Nature's Classroom program. Two Grade 7 groups would go on Oct. 17-19 and Oct. 19-21. The sixth-graders would make the trips Nov. 14-16 and Nov. 16-18, according to Assistant Principal Christopher Ocampo.
Scholarship, stipends supported
In other business, the committee approved establishment of the Annette Joyce Flohr Memorial Scholarship in the amount of $500.
Public Notice: Water Use Restriction
With the prolonged dry conditions and very little rain accompanied by high temperatures, water use has risen drastically. We would like to remind everyone of our current state required watering restrictions. It is of the utmost importance that everyone adhere to these restrictions to ensure an adequate supply of water for everyday essential needs and for firefighting capabilities. Please see our website for full details. Lawn watering is only permitted twice per week by precinct before 7AM and after 7PM and there is no watering on Saturday, Sunday, or Monday. All other non-essential use is only permitted before 9 AM and after 5 PM. We have record heat on the way for this weekend and it is only with your cooperation that we will be able to sustain water supplies.
Aerial mosquito insecticide applications planned across town
The Central Massachusetts Mosquito Control Project (CMMCP) announced that personnel are scheduled to perform aerial insecticide applications — via helicopter — for larval mosquito control in Hopkinton from May 23-28. Weather, especially high winds and rain, will determine the actual dates of applications.
Update from Hopkinton Health Department: Covid-19 community level is High
Due to a recent uptick in COVID cases, the Town of Hopkinton is strongly recommending the wearing of face coverings by residents indoors (when not in your home) in order to help prevent further spread of COVID. This is based on guidance from the CDC, and driven by Middlesex County's community level rating of high. You can learn more here.
Main  Street Corridor Project – Weekly Update
Work Scheduled for the Week of May 23, 2022 to May 27, 2022 has been completed.
Saw Cut for Duct Banks — mostly between Grove St. and Ash St.
Install Electric Manholes and Telephone Manhole at the intersection of 135/85
Begin Electric Duct Banks at 5 East Main Street
Begin Service Connections from the Fire Station towards CVS
Install Conduits for traffic signal at the Fire Station
https://hopkintonmainstreet.com/
RELATED: Live Construction Video Feeds are available for the Main Street Corridor Project, check where crews are working and traffic / weather conditions before you leave your home or office.
---