Weekly News Roundup – 03/07/2021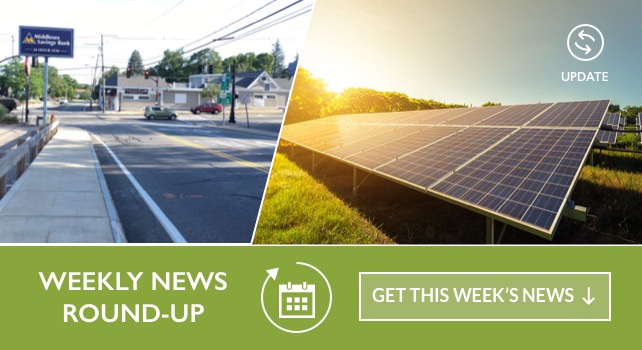 Covid-19 Vaccine, Updates & Precautions • School Committee hears from public on full reopening, might vote next Thursday • Superintendent: Case of student-to-student transmission confirmed in schools • Health director looks to clear up 'misunderstanding' related to school COVID responsibilities • School Superintedent, Dr. Carol Cavanaugh gives School Update on the March 1st Hangout Hour! • Save the Date – Main Street Corridor Q & A – Tuesday, March 30 at 7:00 PM • Public Notice: Hopkinton Youth & Family Services strategic plan "open house" • Public Notice: Hopkinton Youth & Family Services strategic plan "open house" • Town leaders present visions, goals at 'All Hands' meeting • Select Board roundup: Main Street Corridor Project construction crews to use Marathon Way as staging area • Planning Board narrowly votes to recommend solar map for Town Meeting approval • Town Election Candidates UPDATE • Planning Board roundup: International Marathon Center special permit OK'd • Select Board removes proposed firearm restriction amendment for this year but plans to revisit it • Select Board Actions Taken 03/02/2021
---
Covid-19 Updates & Precautions
This page provides information, maps and resources about the coronavirus response in our local area.
Visit Hopkinton, MA – Coronavirus Response Hub
As of 03/04/21, Hopkinton's Health Department is reporting 752 total confirmed COVID-19 cases; 28 of those cases are active, with 707 recoveries and 17 deaths. You can see historical tracking and updates on Hopkinton's Community Impact Dashboard
The most recent update from Mar 4th includes:
RELATED NEWS:
Schools tentatively will reopen for students in kindergarten through Grade 5 on March 29, superintendent Carol Cavanaugh said Thursday.
Middle school tentatively will reopen April 5. The high school reopening date has yet to be set.
The forum was held to answer questions submitted by community members about reopening plans and rationales.
Superintendent Carol Cavanaugh sent an email to schools families Tuesday indicating that late last week the district had its first confirmed case (by the Hopkinton Health Department and Massachusetts Department of Public Health) of student-to-student transmission of the COVID-19 virus in the schools.
On the Monday, March 1st Hopkinton Hangout Hour, Jim Cozzens talked with School Superintendent, Dr. Carol Cavanaugh about the latest happenings in Hopkinton Schools.
Save the Date – Main Street Corridor Q & A – Tuesday, March 30 at 7:00 PM
Curious about the Main Street Corridor Project and want to get the full scoop? eHop & HCAM will be hosting a Zoom session with town officials where you can ask questions about logistics of the project and how it will affect your daily life and work in Hopkinton. You may submit questions in advance to
questions@ehop.org
 or login to the zoom to ask then at the meeting. In the meantime please visit the project website for detailed information at 
https://hopkintonmainstreet.com/
 and sign up to receive weekly updates by email at 
https://forms.gle/DNnirXzA89xnEsSm7
.
RELATED: Main Street Construction Advisory 
Hopkinton Main Street Corridor Project Construction Advisory No. 2 March 5, 2021 – Tree Work
Hopkinton Main Street Corridor Project Construction Advisory #1 – February 26, 2021
Public Notice: Hopkinton Youth & Family Services strategic plan "open house"
Hello Hopkinton Community!
We are extending an invitation to the Hopkinton Youth & Family Services strategic plan "open house". While 2020 was a time of responsive service to the community we also completed a three year strategic plan. The process involved a lot of active listening and creating strategies to meet the behavioral health needs for the community. We hope you will join us on Monday, March 8th as we share this plan with the community.
Town leaders present visions, goals at 'All Hands' meeting
Town department leaders presented their visions, goals and budget asks and took questions from elected officials during the town's "All Hands" meeting Wednesday night, a warmup for the May 3 Town Meeting.
Select Board roundup: Main Street Corridor Project construction crews to use Marathon Way as staging area
The Select Board voted unanimously Tuesday to allow Main Street Corridor Project construction crews to use Marathon Way — the short road that runs between the Town Common and the Doughboy statue, connecting Main Street to Ash Street — as a staging area while work is being done downtown.
View Article
Planning Board narrowly votes to recommend solar map for Town Meeting approval
In the works for more than two years, the map delineates properties where commercial solar arrays can be sited in the town, with a majority of those properties located along the Interstate 495 corridor, along with a few other scattered parcels.
Those voting against the measure were Jane Moran, Mary Larson-Marlowe, Deb Fein-Brug and chair Gary Trendel.
Speaking in opposition, Trendel noted that the town's legal counsel previously expressed concern that the board did not adequately describe why a property would be included or left out of the map, and that the town would be hard-pressed to defend it in court should it be challenged by a property owner or a commercial solar array company.
Town Election Candidates UPDATE
3 Contested races and 1 Candidate needed!
Planning Board roundup: International Marathon Center special permit OK'd
The proposed International Marathon Center, planned for a spot on town-owned land at 53 East Main Street, took another step forward Monday when the Planning Board voted unanimously to approve a special permit.
View Article
SELECT BOARD ACTIONS TAKEN 03/02/21
6:15 PM BOARD/COMMITTEE APPOINTMENTS – The Select Board will consider the following appointments to boards and committees:
i. Capital Improvement Committee – Mohamed Haider, term expiring 6/30/2023.
ii. Woodville Historic District Commission, Board of Realtors rep. – Sharon O'Reilly, term expiring 6/30/2023.
The Select Board approved the Minutes of the 2/23/20 Select Board meeting, appointed Mohamed Haider to the Capital Improvement Committee to a term expiring 6/30/2023, and appointed Sharon O'Reilly to the Woodville Historic District Commission, to a term expiring 6/30/2023. (5-0)
6:50 PM TOWN MANAGER REPORT
i. Main Street Corridor Project Update
The Select Board approved the use of Marathon Way as a laydown area for the Main Street Corridor Project, intermittently as required, until such time as the work east of the Main St./Cedar St./Grove St. intersection has been completed. (5-0)
Materials for this Meeting:
---