Weekly News Roundup – 03/21/2021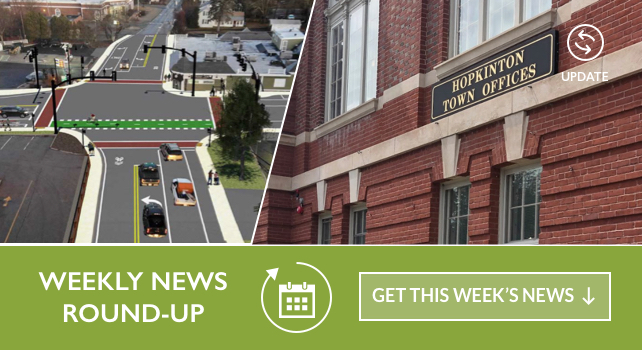 Covid-19 Updates and Vaccine Information • Hopkinton Covid-19 Vaccine Information • HPS Covid Case Tracking • Superintendent: No plans to go all-remote at high school despite COVID surge • Superintendent urges vigilance following surge of COVID cases in schools • Superintendent urges vigilance following surge of COVID cases in schools • Public Notice: Water Discoloration • Town Common marchers call out anti-Asian bigotry • Hopkinton Emergency Fund makes initial fundraising push • Women's Club Candidates Night event April 28 • Select Board roundup: Residents give town high marks in survey; Main Street work begins • Town Election Reminders and Candidates Needed • Town Meeting date appears likely to change • Main Street Corridor Updates • Planning Board questions Wilson Street solar developer's stormwater plan • Planning Board removes tree protection articles from Town Meeting • Hopkinton Public Library Announces New Strategic Plan • Crews put down fire outside Fruit Street gun club Sunday night • Select Board Actions Taken – 03/16/21
---
Covid-19 Updates & Precautions
As of 3/18/21, Hopkinton's Health Department is reporting 808 total confirmed COVID-19 cases; 29 of those cases are active, with 762 recoveries and 17 deaths. You can see historical tracking and updates on Hopkinton's Community Impact Dashboard which is updated frequently.
This week's new Covid Updates include:
Hopkinton Public Schools
Vaccine Eligibility Timeline
Travel Order Notice
Related Resource: 
HPS has created a new COVID case tracking dashboard by school, updated regularly- HPS COVID-19 Dashboard
Superintendent Carol Cavanaugh, in an email to schools families Monday, stated that there are no plans to switch to a temporary all-remote learning model at Hopkinton High School despite a run on COVID-19 cases there.
Superintendent Carol Cavanaugh emailed schools families Friday afternoon requesting that they check their children for symptoms of COVID-19 and hold them out of school if any exist.
There have been 16 confirmed cases in the district over the past 10 days — 13 of which were at the high school — and Cavanaugh noted that most of the people testing positive entered the schools with symptoms.
Public Notice: Water Discoloration
Please be advised that the LNG plant will be performing required hydrant maintenance on their property. Hydrants will be exercised to ensure they are working properly. There could be a slight chance that the operation could cause some discoloration in the center and Eastern portions of the town.
Please be advised that due to a water break on Hayward St this afternoon, there may be some discoloration in the water in the Southwest part of town.
View Notice
Town Common marchers call out anti-Asian bigotry
A crowd of about 200 people turned out at the Town Common on Saturday afternoon for a rally and march to bring awareness to racially charged sentiments of hate against Asian-Americans.
The event, organized by the Hopkinton Chinese American Association, with help from the Hopkinton Freedom Team, lasted about an hour. The participants held signs and marched around the Common changing, "Stop Asian hate," "Hate is a virus," and, "We are Americans, too."
View Article
Related News: 
The Hopkinton Chinese American Association is planning a rally and march this Saturday from 1:30-3:30 p.m. at the Town Common to call awareness to anti-Asian hate crimes and racism.
Hopkinton Emergency Fund makes initial fundraising push
The HEF (hopkintonemergencyfund.org) is a private, 501(c)(3) organization whose mission is to provide temporary emergency financial assistance to residents through collaboration with existing human service organizations. The nonprofit seeks to unify the Hopkinton community by recognizing its responsibility to support residents faced with emergencies by providing financial assistance to meet basic needs.
Women's Club Candidates Night event April 28
The Hopkinton Women's Club recently announced that it will host its annual Candidates Night on Wednesday, April 28, at 7 p.m. The decision to hold the event in person or virtually will be made in April.
Select Board roundup: Residents give town high marks in survey; Main Street work begins
The town received high marks in a recent 
community satisfaction survey
, according to Damema Mann of the National Research Center (NRC), which conducted the survey.
Town Election Reminders and CANDIDATES NEEDED
To become a candidate a person must either obtain and submit nomination papers by securing the signatures of 50 Hopkinton registered voters by Tuesday, March 30, 2021; or a person may qualify by being the top vote-getter in one of the town political party caucuses. The Hopkinton Democratic Town Committee Caucus will be Friday, April 9 at 6:30 PM on Zoom. The Republican caucus date has not been announced yet, but is typically in early April.  Town Election 2021 Information Page
View Open Positions and Candidate Updates
Town Meeting date appears likely to change
Main Street Corridor Project
Curious about the Main Street Corridor Project and want to get the full scoop? eHop & HCAM will be hosting a Zoom session with town officials, on Tuesday, March 30, 2021 at 7:00 PM, where you can ask questions about logistics of the project and how it will affect your daily life and work in Hopkinton. You may submit questions in advance to questions@ehop.org or during the forum. In the meantime please visit the project website for detailed information at https://hopkintonmainstreet.com/ and sign up to receive weekly updates by email at https://forms.gle/DNnirXzA89xnEsSm7.
Click here for more information
Planning Board questions Wilson Street solar developer's stormwater plan
The Planning Board at its Monday night meeting urged Grasshopper Energy to revise its stormwater mitigation plan as part of its plan to construct a 2.4 megawatt solar array off Wilson Street, advising that the area underneath the proposed solar panels should not use gravel to prevent runoff.
Planning Board removes tree protection articles from Town Meeting
The Planning Board voted 7-2 at Monday's meeting to remove both articles regarding tree protection from the 2021 Town Meeting warrant, deeming that they needed further input from developers and the real estate community before proceeding to Town Meeting. The board decided to send the issue back to the Zoning Advisory Committee (ZAC) for further discussion.
Related Article: 
Here is a comprehensive timeline of the Solar Bylaws being prepared for Town Meeting by the Zoning Advisory Committee
Hopkinton Public Library Announces New Strategic Plan
The Hopkinton Public Library is pleased to announce the creation of a long-range plan for fiscal years 2022-2027. Based on community feedback collected in 2020, the new plan will guide the library's work and priorities for the next five years.
Crews put down fire outside Fruit Street gun club Sunday night
A fire that apparently started in a shed behind the Southborough Rod and Gun Club, which is located on Fruit Street in Hopkinton, spread to some trees but was quickly contained by fire crews Sunday night.
"It extended into the woods a little bit, and it was challenging," Hopkinton Fire Chief Steve Slaman said Monday. "It had burned into some tree tops because it was so windy and dry out. So, most of our activity was working on the woods fire and keeping that from extending."
Select Board Actions Taken –

03/16/21
6:25 PM CONSENT AGENDA
i. MINUTES – The Select Board will consider approving the Minutes of the 3/2/21 and 3/3/21 meetings.
ii. ACCEPT GIFT – The Select Board will consider accepting a $100 donation to the K-9 Gift Account from Doris Carver.
iii. RESIGNATION – Accept the resignation of Ramya Kumaraswamy from the Capital Improvements Committee.
The Select Board approved the Consent Agenda. (5-0)
6:30 PM BOARD/COMMITTEE APPOINTMENTS
The Select Board will consider appointing Patricia Srodawa to the Council on Aging, to a term expiring 6/30/2021.
The Select Board appointed Patricia Srodawa to the Council on Aging, to a term expiring 6/30/2021. (5-0)
7:10 PM FY 22 COMPREHENSIVE BUDGET
The Select Board will consider adopting the Town Manager's proposed budget & capital items for FY22 and submit them to the Appropriation Committee.
Supporting Exhibits: Town Manager Budget Recommendation
The Select Board voted to forward the Town Manager's March 16, 2021 memorandum, Fiscal Year (FY) 2022 Comprehensive Budget, to the Appropriation Committee for review of the 2.5% tax impact version of the recommendation, and for preparation of a recommendation to the Annual Town Meeting. (5-0)
MATERIALS FOR THIS MEETING:
---