Weekly News Update – 04/16/2023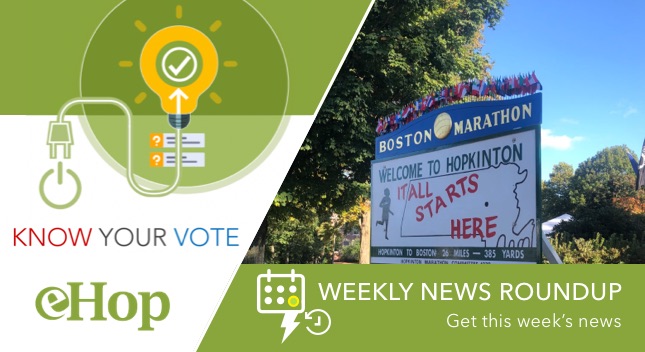 SAVE THE DATE: KNOW YOUR VOTE 2023 • Town Election 2023 – List of Candidates • Town of Hopkinton Welcomes Participants and Spectators for the 127th Boston Marathon • Main street corridor project • Town Election 2023 – List of Candidates • Women's Club Meet the Candidates Night set for April 26 • UCTC members express thoughts, disagreements regarding potential reconfiguration • Conservation Commission allows construction of The Trails to go forward • Select Board roundup: Marguerite Concrete seeks rezoning for building on South Street; Orale Mexican restaurant to open Tuesday • Committee emphasizes importance of input for proposed new school • Outdoor water use restriction starts May 1 • Planning Board approves The Trails, Grasshopper solar modifications • Select Board roundup: Altaeros TIF on hold; Southborough supports water connection • Appropriation Committee considers school budget gap, future needs • 2023 Metrowest Community Health Assessment – survey
---
SAVE THE DATE: KNOW YOUR VOTE 2023
eHop will hold its 11th Annual Know Your Vote forum on Tuesday, April 18, 2023 at 7-9 pm.  This will be an in-person forum at HCAM Studios (77 Main St). It will be broadcast live on HCAM-TV and YouTube. This is a unique opportunity to get the answers you need from town officials before Town Meeting.
Town of Hopkinton Welcomes Participants and Spectators for the 127th Boston Marathon
Officials from the Town of Hopkinton are excited to once again welcome runners, spectators, supporters, volunteers and staff from around the world to the start of the 127th Boston Marathon on Monday, April 17.
Main street corridor project
What to Expect for the Week of April 17th to April 21st, 2023
No work on Monday, April 17th – Boston Marathon
Work will begin on Tuesday April 18th
East Side of Project
Continue the service connections to buildings between the Muffin House and Hayden Rowe. Connections inside buildings will happen at a future date.
Town Election 2023 – List of Candidates
Running List, last updated 04/10/23. 1 Contested Race:
School Committee (3 years, vote for 2)


Susan Stephenson, Democrat
Adam Munroe, Democrat
Ashley Fogg, Unenrolled
Related: 
The Hopkinton Women's Club will host its 35th annual Meet the Candidates Night on Wednesday, April 26, at 7 p.m. The event will be broadcast on HCAM.
Residents are invited to attend at the HCAM studios (77 Main Street) for the opportunity to learn more about citizens running for office and to pose questions about key issues before the May 16 Town Election.
UCTC members express thoughts, disagreements regarding potential reconfiguration
The mood at the nearly two-hour Upper Charles Trail Committee meeting Monday night was agitated as members debated the response the group will put forward at the upcoming Annual Town Meeting on May 1 to two citizens' petitions that call for the group's potential reformation as a Trails Coordination and Management Committee subcommittee.
Chair Jane Moran opened debate of whether the committee should vote to support the two warrant articles. The first calls for the UCTC in its current form to be disbanded and reformed as a TCMC subcommittee, with members chosen by the TCMC. The second article calls for withholding further funding to explore the possibility of the proposed trail that crosses Hayden Rowe Street, commonly referred to as Section 7, the piece of the trail that would connect Hopkinton to the Milford trail head.
Conservation Commission allows construction of The Trails to go forward
The Conservation Commission at its in-person meeting Tuesday night unanimously approved the notice of intent that would allow construction of the next development phase of The Trails to proceed, but it decided to table a discussion of how to resolve previously assessed fines.
Select Board roundup: Marguerite Concrete seeks rezoning for building on South Street; Orale Mexican restaurant to open Tuesday
During the Select Board's discussion Tuesday about the May 1 Annual Town Meeting warrant, representatives from Marguerite Concrete presented their plan for development of a South Street property that would require rezoning.
Marguerite Concrete, founded in 1989 by Hopkinton resident Jim Marguerite, seeks to change the zoning at the corner of South Street and Hayward Street in order to construct its new corporate headquarters. 
New restaurant gets license
The board approved a common victualer license for Orale, a Mexican restaurant that is set to open Tuesday at 22-24 Main Street. The restaurant will offer dine-in, takeout and delivery options.
Select Board roundup: As PFAS remediation costs soar, questions about origins swirl
The town's efforts to eliminate PFAS from the water supply continue to get more expensive, while questions about where the chemicals originated continue to surface without any concrete answers.
However, the town is negotiating a contract with Bay State Regional Contractors for $1,198,737. Additionally, consultant Weston & Sampson has proposed a contract for construction, administration and compliance with Department of Environmental Protection permits in the amount of $217,500, and the town previously made a purchase of filtration vessels for $157,177.
That puts the total at $1,573,414, leaving a shortfall of $973,414.
Town Meeting nears
The board discussed plans for Annual Town Meeting on May 1. There are 48 articles on the warrant.
Related: Select board actions taken – 04/04/2023
Committee emphasizes importance of input for proposed new school
Visually seeing what is possible at the proposed Elmwood School replacement is exciting for teachers, according to Elmwood Principal Anne Carver, "especially those who are at Hopkins School trying to wrap their heads around making a shift."
Carver was speaking at Tuesday's Elementary School Building Committee (ESBC) meeting during a review of recent meetings with town departments.
Outdoor water use restriction starts May 1
As mandated by the town's water management permit issued by the state to limit nonessential outdoor use, protect stream flow and aquatic life, and ensure sustainable drinking water, the town is required to implement a mandatory state of water supply conservation from May 1 through Sept. 30 each year, pursuant to the town's water use restriction bylaw.
Under Chapter 199-6 Section F, lawn sprinklers may be used for lawn watering two days per week, outside of the hours of 7 a.m.-7 p.m. All other outdoor non-essential use is permitted daily outside the hours of 9 a.m.-5 p.m.
Planning Board approves The Trails, Grasshopper solar modifications
The Planning Board at its meeting Monday night voted 8-0 to approve two longstanding projects — The Trails and the Grasshopper solar farm — after the respective applicants agreed to several conditions.
Project engineer Peter Bemis said that the proposed sidewalk at the entrance was the only outstanding issue that the Planning Board may need to review. A berm previously had been approved where the sidewalk with sloped granite curbing is proposed, he noted. The project received unanimous approval at the previous week's Conservation Commission meeting.
Select Board roundup: Altaeros TIF on hold; Southborough supports water connection
At Tuesday's Select Board meeting, Town Manager Norman Khumalo recommended that the board remove the Town Meeting article related to a proposed tax increment financing (TIF) agreement with Altaeros Energies, which the board did.
According to Khumalo, the company — which designs and builds aerostats — no longer plans to renovate and inhabit the building at 80 South Street. However, he said Altaeros is considering other options in town.
Appropriation Committee considers school budget gap, future needs
ollowing a budget presentation Monday, members of the Hopkinton Appropriation Committee told the School Committee that looking at long-term capital needs should be a priority.
First, Superintendent Carol Cavanaugh reviewed the district's proposed $60.1 million operating budget for fiscal year 2024, noting the various twists and turns the process has taken to get to this point.
2023 Metrowest Community Health Assessment – survey
Hopkinton Youth and Family Services invites you to take part in the Metrowest Health Foundation's Community Health Needs Survey.
This survey is part of a multi-tiered data-gathering process where MetroWest residents share their feedback on health issues and services in the region. The 10-minute, anonymous survey can be completed online in three different languages:
IN ENGLISH:  https://www.surveymonkey.com/r/CHA23Eng
EN ESPAÑOL:  https://www.surveymonkey.com/r/CHA23Esp
EM PORTUGUÊS:  www.surveymonkey.com/r/CHA23Por 
---
---