Weekly News Roundup: Special Town Meeting Edition – 10/29/2023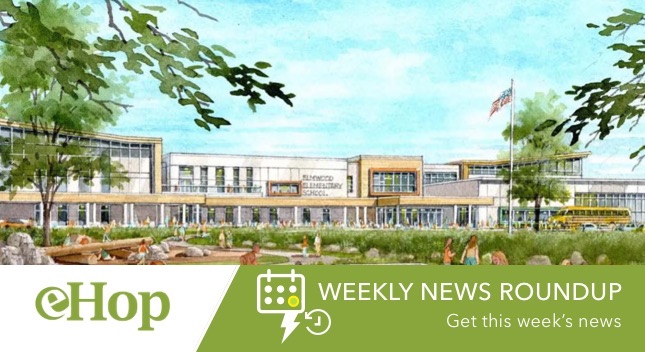 SPECIAL TOWN MEETING NOTICE – 11/13/23 • ELECTRONIC VOTING FOR SPECIAL TOWN MEETING • Elmwood School Building Project – Community Forum • Elementary School Building Committee – 2 and Hopkinton Public Schools • Hopkinton Permanent Building Committee to Hold Public Forum • Select Board Roundup: STM will use electronic voting; 4 warrant articles approved • Select Board appoints new police officer, reviews HPD goals • Parks & Rec approves EMC Park allergen signage, eyes skateboard event for Nov. 12 • Lack of state PFAS guidance frustrates Health Department, residents • Planning Board approves stormwater management permit for 87 Hayden Rowe Street office building 
---
SPECIAL TOWN MEETING NOTICE – 11/13/23
The Hopkinton Select Board has called a Special Town Meeting to be held at 7:00 PM on Monday, November 13, 2023 in the Hopkinton Middle School Auditorium, 88 Hayden Rowe St, Hopkinton MA 01748.
Read the Special Town Meeting Warrant 2023-11-13 (PDF)
ARTICLES
RELATED (NEW)- ELECTRONIC VOTING FOR SPECIAL TOWN MEETING:
Hopkinton will be piloting electronic voting with handheld clickers for this town meeting. Voters will receive a clicker (as well as a paper voting pass) when they check in at Town Meeting. This system made by Meridia is used by many other New England towns to improve accuracy and efficiency. Read more on the Meridia Electronic Voting Systems website.
Elmwood School Building Project – Community Forum
Come voice your opinion! 
Elmwood School Building Project
Community Forum #11
Tues Nov 7 at 7PM at the High School
Virtual zoom link will be available soon.
RELATED: Stay informed so you can come vote on the special town meeting warrant on Nov 13th
Elementary School Building Committee 2 and Hopkinton Public Schools
On October 25, the Massachusetts School Building Authority (MSBA) voted to approve the Hopkinton Elementary School project to replace the existing Elmwood Elementary School with a new facility serving grades 2 through 4 on an alternative site referred to as the "Hayden Rowe Street site."  This approval ensures that Hopkinton will receive a funding support grant from the MSBA, if the project is approved by the voters of Hopkinton.
Additionally, the MSBA voted to increase the maximum facilities grant that the project is eligible to receive by 31%. The reimbursement that the town will receive from the MSBA, after projected contingency usage, peaks now at a maximum total facilities grant of $61,527,604. In essence, the MSBA increased the maximum grant by $14,742,782. This nearly fifteen million dollar increase changes the financial impact of the project.
Hopkinton Permanent Building Committee to Hold Public Forum
Hopkinton Permanent Building Committee to Hold Public Forum to Discuss Updated Facility Plans
WHEN: Thursday, Nov. 2 at 6:30 p.m.
WHERE: Hopkinton Center for the Arts
During the forum, five possible "big picture" scenarios will be discussed, giving residents new insight — based upon the committee's work and previous public input — on what capital projects could be proposed for Elmwood School, Center School, Town Hall and Fruit Street.
Select Board Roundup: STM will use electronic voting; 4 warrant articles approved
The Select Board at its meeting Thursday night approved the warrant for the Nov. 13 Special Town Meeting, where electronic voting will be implemented for the first time.
Town Clerk Connor Degan addressed the joint meeting of the Select Board and the School Committee regarding electronic voting at the upcoming STM. The article that is expected to draw the most attendees will be on the proposed new school building to replace Elmwood.
Select Board appoints new police officer, reviews HPD goals
The Select Board at its meeting Tuesday night unanimously appointed Brian Ziniti as a Hopkinton Police Department officer and focused on the department's goals.
Police Chief Joseph Bennett, who attended the meeting via Zoom, introduced Ziniti to the board.
Vice chair Shahidul Mannan asked what steps the candidate would take to build trust with the community and the department. Ziniti replied that his military service taught him that "teamwork is paramount."
The questions posed by Select Board member Irfan Nasrullah focused on Ziniti's views on restorative justice, court diversion programs and crisis intervention teams for those experiencing mental health emergencies.
Police chief discusses departmental initiatives, goals
Bennett told the board that his department, the School Department and Youth and Family Services are working together to prepare for an upcoming School Committee presentation on the school resource officer program on Oct. 26.
Parks & Rec approves EMC Park allergen signage, eyes skateboard event for Nov. 12
The Parks & Recreation Commission voted 3-0 to approve a sign at EMC Park to alert visitors to the dangers of eating near playground equipment for people who have food allergies.
The concept of the sign originated with Reese Robledo as a class project when she was in the fourth grade five years ago. She has had numerous food allergies since she was four months old.
Lack of state PFAS guidance frustrates Health Department, residents
The Board of Health at its meeting Monday evening discussed the lack of state guidance on PFAS levels and Hopkinton's leading role in its regional health collaborative structure.
Health Department Director Shaun McAuliffe told board members that no state guidance from the Department of Environmental Protection has been issued yet regarding the acceptable level of PFAS in public wells. These perfluoroalkyl and polyfluoroalkyl substances have been deemed "forever chemicals" because they are not biodegradable. They are used as coatings to protect manufactured goods from stains and water damage.
Planning Board approves stormwater management permit for 87 Hayden Rowe Street office building
The Planning Board at its half-hour meeting Monday night voted 5-0 to approve a stormwater management permit for a two-story office building at 85R and 87 Hayden Rowe Street, allowing the redevelopment project to move one step closer to approval.
---
---