Article 1: Elmwood School Replacement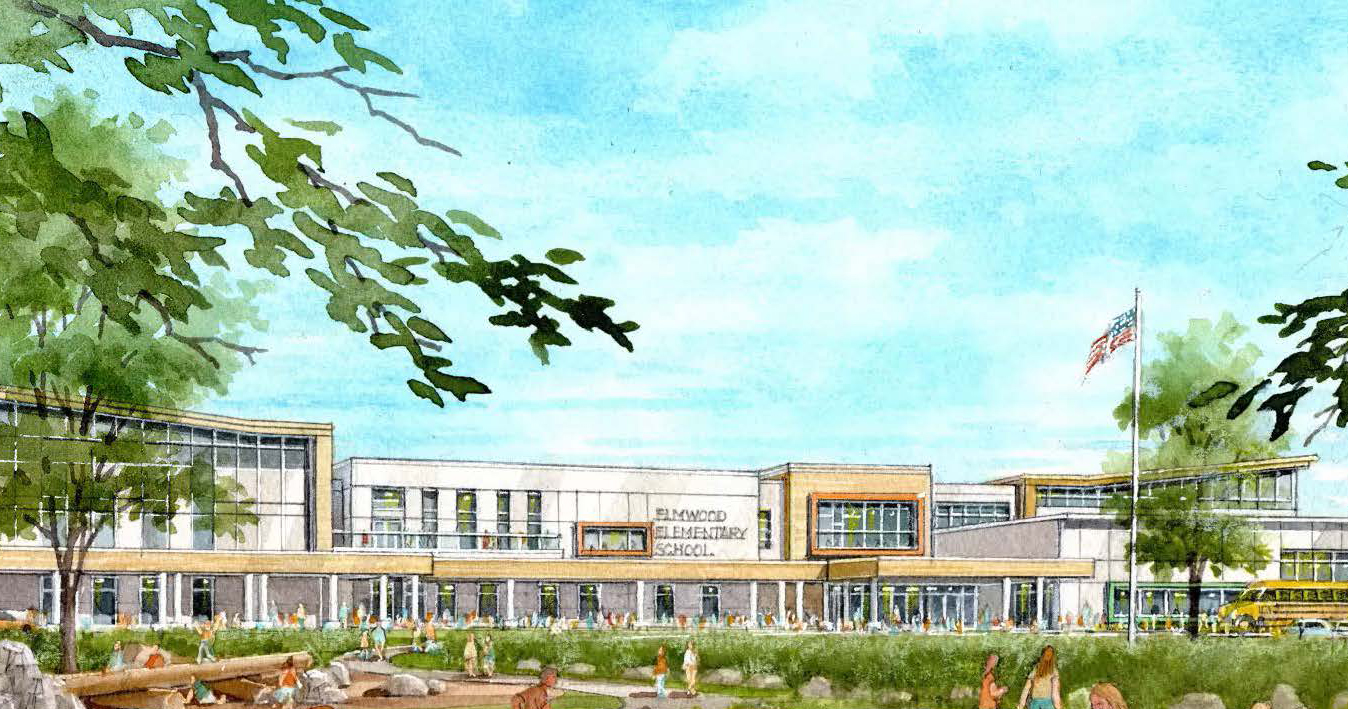 Article: Elmwood Elementary School
Sponsor: Elementary School Building Committee 2
Article Text: To see if the Town will vote to appropriate, borrow or transfer from available funds, an amount of money to be expended under the direction of the Elementary School Building Committee to design, construct and furnish the new Hopkinton Elmwood Elementary, on the Hayden Rowe site, located at 147 Hayden Rowe, for 1195 students in grades 2-4, inclusive of all building, mechanical systems along with associated site work improvements, and which school facility shall have an anticipated useful life as an educational facility for the instruction of school children of at least 50 years, and for which the Town may be eligible for a school construction grant from the Massachusetts School Building Authority ("MSBA"). The Town acknowledges that the MSBA's grant program is a non-entitlement, discretionary program based on need, as determined by the MSBA, and any project costs the Town incurs in excess of any grant approved by and received from the MSBA shall be the sole responsibility of the Town. Any grant that the Town may receive from the MSBA for the Project shall not exceed the lesser of (1) Forty-nine and seven hundredths percent (49.07%) of eligible, approved project costs, as determined by the MSBA, or (2) the total maximum grant amount determined by the MSBA.
Votes Needed: 2/3rds Majority at Town Meeting – AND – a Simple Majority at Special Town Election 11/28/2023
More info:
elmwoodproject.com
Upcoming & Recent Forums:

November 7, 2023 – Community Forum #11

October 24, 2023 – Community Forum #10

eHop Q & A about the Elmwood Replacement Project with Jon Graziano, Chair of the Elementary School Building Committee 2 and Elyse Mihajloski, President of eHop (Video)
Elementary School Building Committee Update to the Select Board 2023-08-23 (Video) – discussion begins about 47 minutes into the meeting
Possible Re-Use Scenarios for Elmwood School
ESBC & HPS Press Release 10/30/23: "…the MSBA voted to increase the maximum facilities grant that the project is eligible…"
How will this impact my taxes? What will this cost me?
Projected Tax Impact – Based on the the "average" Hopkinton single family home with a current
valuation of $753,300 (current average home tax $11,910), and a 30 year borrowing, the tax
impact is:

Peak year 2028, $952 (+8%); dropping to $726 in 2040; $538 in 2050; and $0 in 2058
The average homeowners's share of total borrowing would be $12,413
The average homeowner's payments over the life of the borrowing would be $21,167

What is the total we are voting on at Special Town Meeting?

$157,342,394 Total

$61,527,604 to be paid by the MSBA
$1,699,500 to be paid by MassSave
$4,000,000 to be paid by the Inflation Reduction Act
$90,605,990 to be paid by the Taxpayers of Hopkinton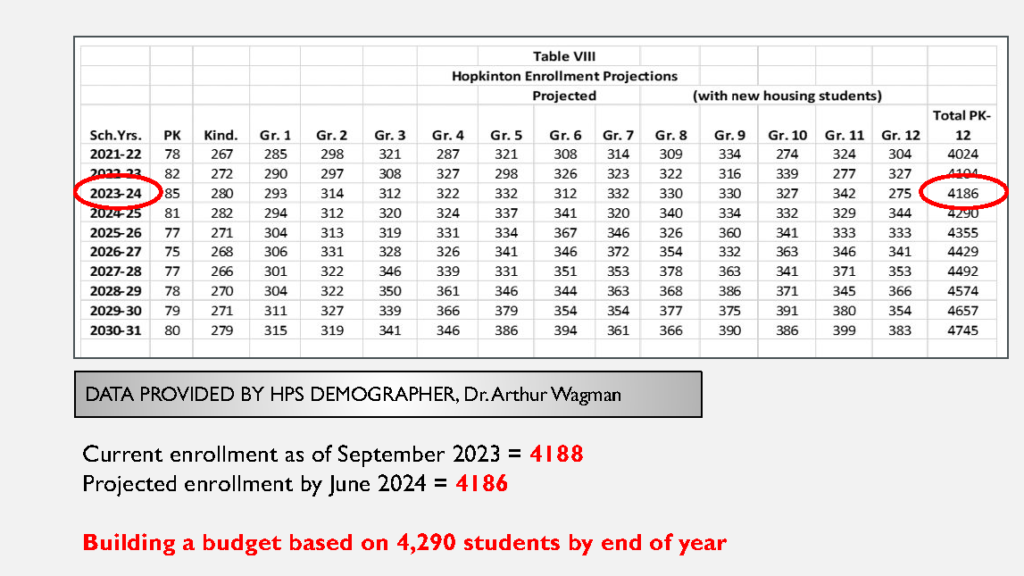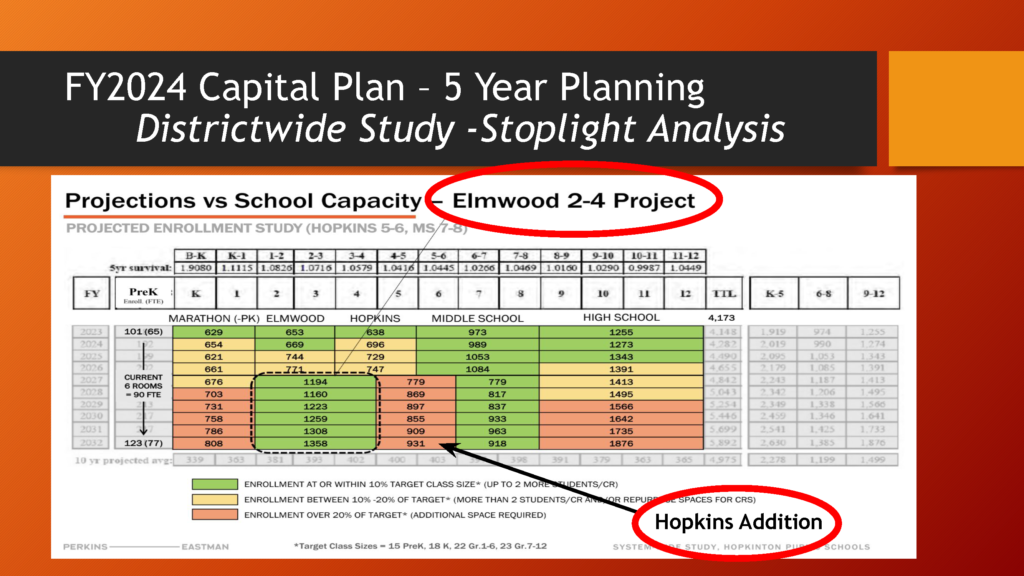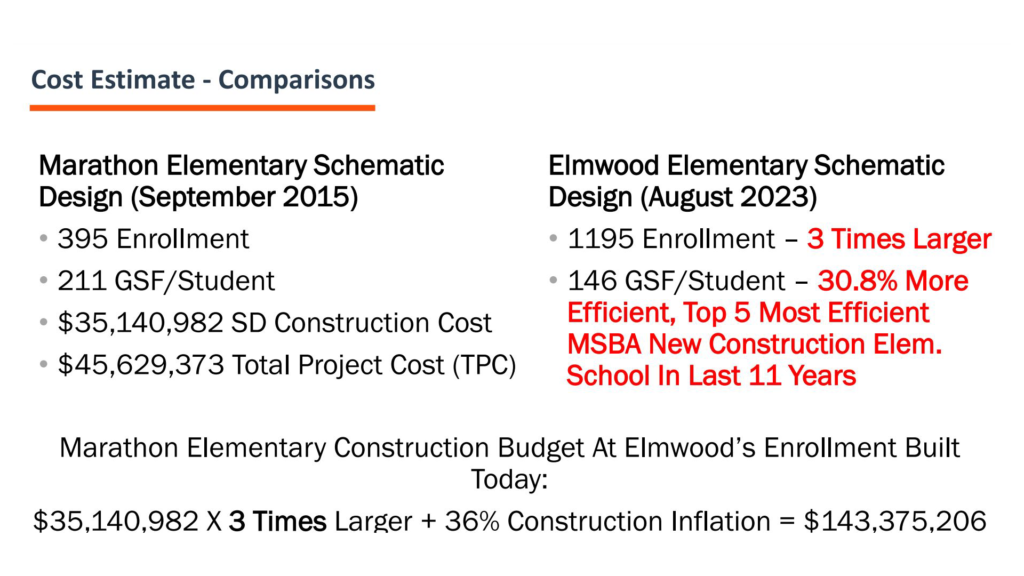 ---
The Hopkinton Select Board has called a Special Town Meeting to be held at 7:00 PM on Monday, November 13, 2023 in the Hopkinton Middle School Auditorium, 88 Hayden Rowe St, Hopkinton MA 01748.
If you have a disability and require a reasonable accommodation to attend a public meeting or event, please complete this form or contact the Town Manager's office at 508-497-9701 at least 3 business days prior to the event.
Childcare: The HPTO will be offering childcare in the Hopkinton Middle School Library. It is encouraged to pre-register to make check-in that night faster: Pre-register for Childcare.
Read the Special Town Meeting Warrant 2023-11-13 (PDF)
Read the Appropriation Committee Report with Recommendations for STM (PDF)
Read the Final Warrant Articles and Motions Document_2023-11-13 (PDF)
Articles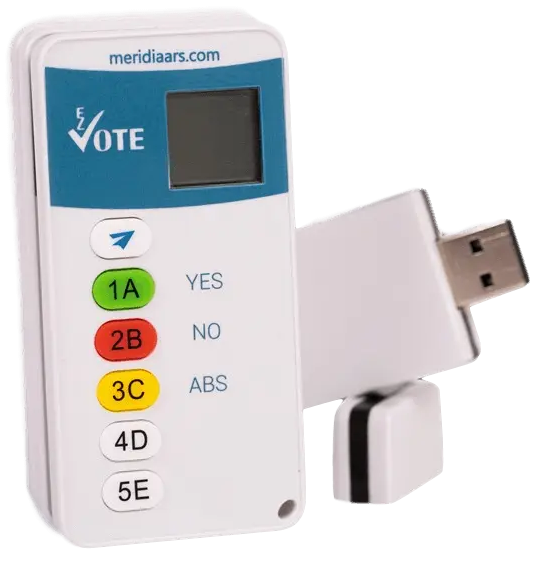 New for 2023
Hopkinton will be piloting electronic voting with handheld clickers for this town meeting. Voters will receive a clicker (as well as a paper voting pass) when they check in at Town Meeting. This system made by Meridia is used by many other New England towns to improve accuracy and efficiency. Read more from the Town Clerk Hopkinton Special Town Meeting Voting Goes Electronic.
---
---