Town Election Candidates Needed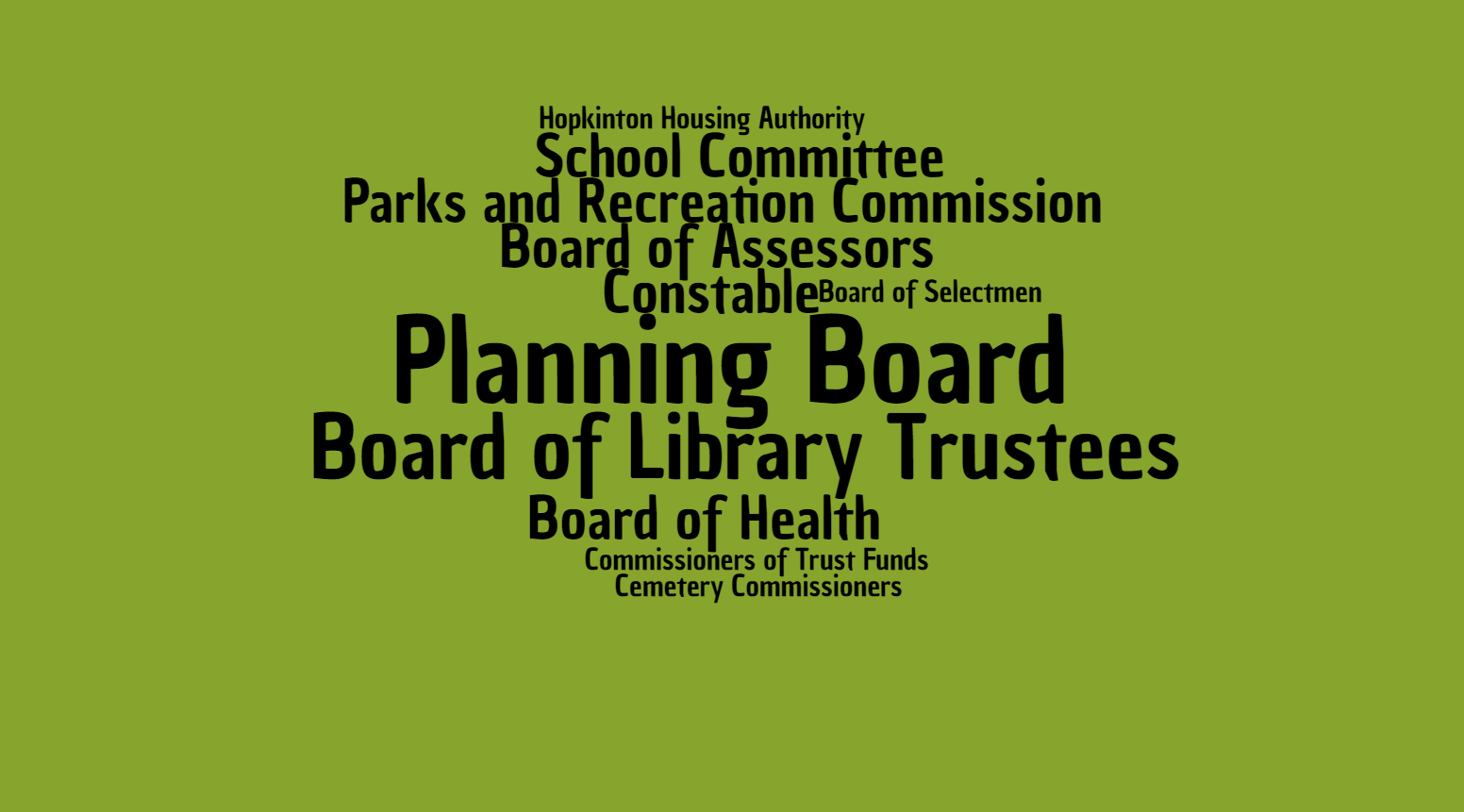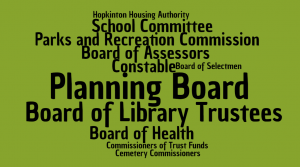 Considering running for local office, but don't know where to begin?
To become a candidate a person must either obtain and submit nomination papers by securing the signatures of 50 Hopkinton registered voters by Monday, March 27; or a person may qualify by being the top vote-getter in one of the town political party caucuses.  The Democratic caucus is Friday, April 7 at 6:30pm in Town Hall. The date of the Republican Caucus has not yet been announced. Nomination signature papers are available from the Town Clerk's office in Town Hall.
Offices on the May 15 Ballot
Board of Assessors, 3 Years, 1 Seat
Board of Assessors, 1 Year, 1 Seat
Board of Health, 3 Years, 1 Seat
Board of Health, 1 Year, 1 Seat
Board of Library Trustees, 3 Years, 2 Seats
Stanley D Pulnik, Unenrolled (incumbent)
2nd candidate needed
Board of Library Trustees, 1 Year, 1 Seat
Board of Selectmen, 3 Years, 1 Seat
John M Coutinho, Republican (incumbent)
Cemetery Commissioners, 3 Years, 1 Seat
Claire Wright, Republican (incumbent)
Commissioners of Trust Funds, 3 Years, 1 Seat
Constable, 3 Years, 1 Seat
Constable, 1 Year, 1 Seat
Hopkinton Housing Authority, 5 Years, 1 Seat
Parks and Recreation Commission, 3 Years, 2 Seats – Contested Race
Christina Anderson, Unenrolled
Laura Hanson, Democrat (incumbent)
Amy Markovich, Republican (incumbent)
School Committee, 3 Years, 2 Seats
Jennifer Devlin, Democrat
2nd candidate needed
Planning Board, 5 Years, 2 Seats
Amy Ritterbusch, Democrat
2nd candidate needed
Planning Board, 3 Years, 1 Seat
Planning Board, 1 Years, 1 Seat
---
For more information, contact the Town Clerk's office at 508.497.9710 or townclerk@hopkintonma.gov. Click to read more on the Town Clerk's website.
If you are new to town or recently moved, the last day to register to vote is April 11, 2017:
---