Town Election Update – More Candidates Still Needed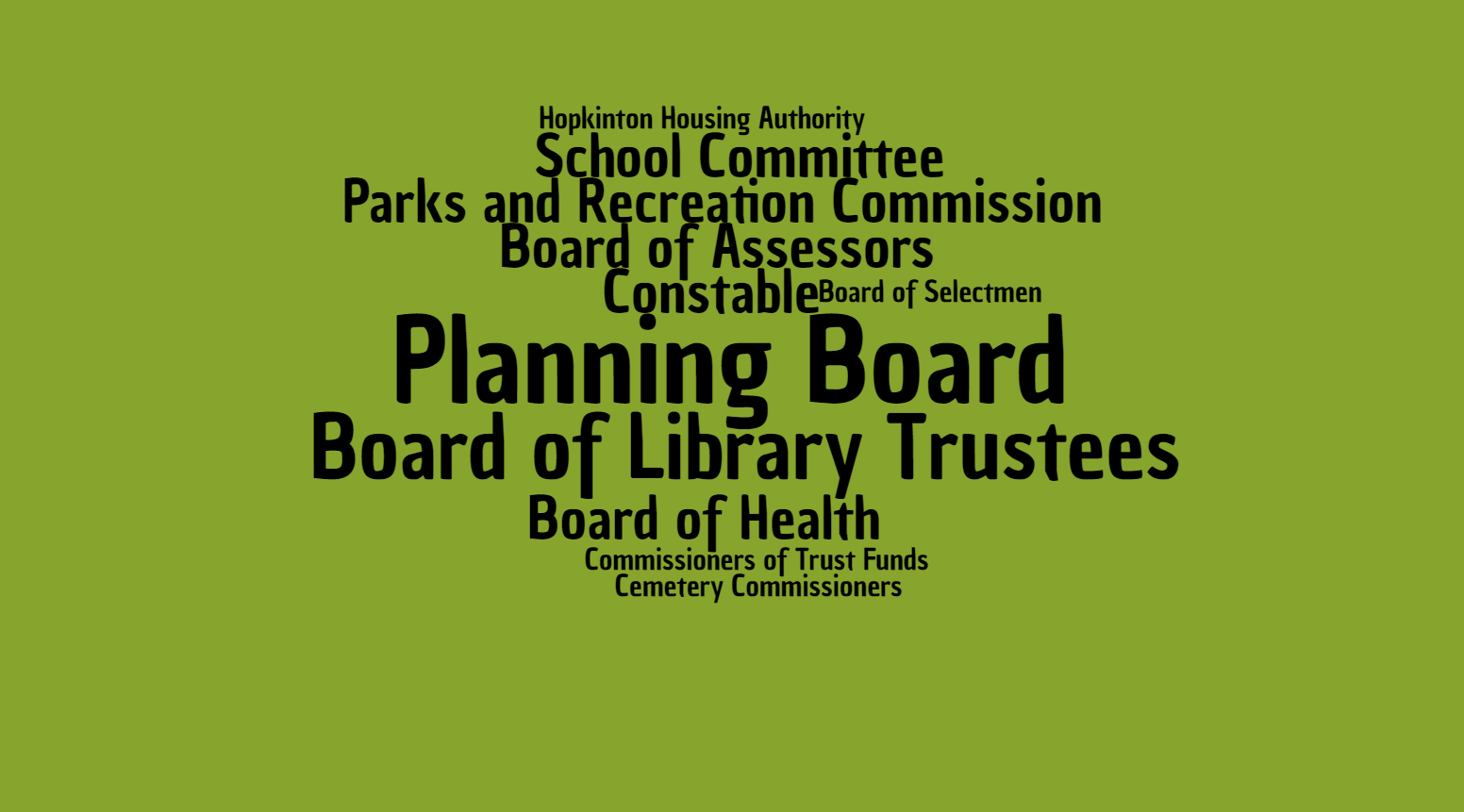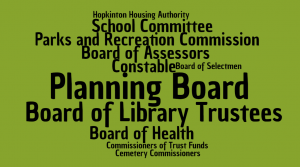 Considering running for local office, but don't know where to begin?
To become a candidate a person must either obtain and submit nomination papers by securing the signatures of 50 Hopkinton registered voters by Monday, March 27; or a person may qualify by being the top vote-getter in one of the town political party caucuses.  The Democratic caucus is Friday, April 7 at 6:30-8:30 PM in Town Hall Room 215-216. The date of the Republican Caucus is Friday, April 7 at 5:00-7:00 PM in Town Hall Room 211. Nomination signature papers are available from the Town Clerk's office in Town Hall.
Offices on the May 15 Ballot
Board of Assessors, 3 Years, 1 Seat
Board of Assessors, 1 Year, 1 Seat
Board of Health, 3 Years, 1 Seat
Elizabeth Whittemore, Democrat
Board of Health, 1 Year, 1 Seat
Board of Library Trustees, 3 Years, 2 Seats
Stanley D Pulnik, Unenrolled (incumbent)

June Harris, Republican (incumbent)
Board of Library Trustees, 1 Year, 1 Seat
Board of Selectmen, 3 Years, 1 Seat
John M Coutinho, Republican (incumbent)
Cemetery Commissioners, 3 Years, 1 Seat
Claire Wright, Republican (incumbent)
Commissioners of Trust Funds, 3 Years, 1 Seat
Constable, 3 Years, 1 Seat
Constable, 1 Year, 1 Seat
Hopkinton Housing Authority, 5 Years, 1 Seat
Parks and Recreation Commission, 3 Years, 2 Seats – Contested Race
Christina Anderson, Unenrolled
Laura Hanson, Democrat (incumbent)
Amy Markovich, Republican (incumbent)
Planning Board, 5 Years, 2 Seats – Contested Race
Amy Ritterbusch, Democrat
Gary Trendel, Republican
Kenneth Weismantel, Republican (incumbent)
Planning Board, 3 Years, 1 Seat
Planning Board, 1 Year, 1 Seat
Irfan Nasrullah, Democrat
School Committee, 3 Years, 2 Seats
Jennifer Devlin, Democrat
Meenakshi Bharath, Unenrolled
---
For more information, contact the Town Clerk's office at 508.497.9710 or townclerk@hopkintonma.gov. Click to read more on the Town Clerk's website.
If you are new to town or recently moved, the last day to register to vote is April 11, 2017:
---