Town Election Update – 5 Contested Races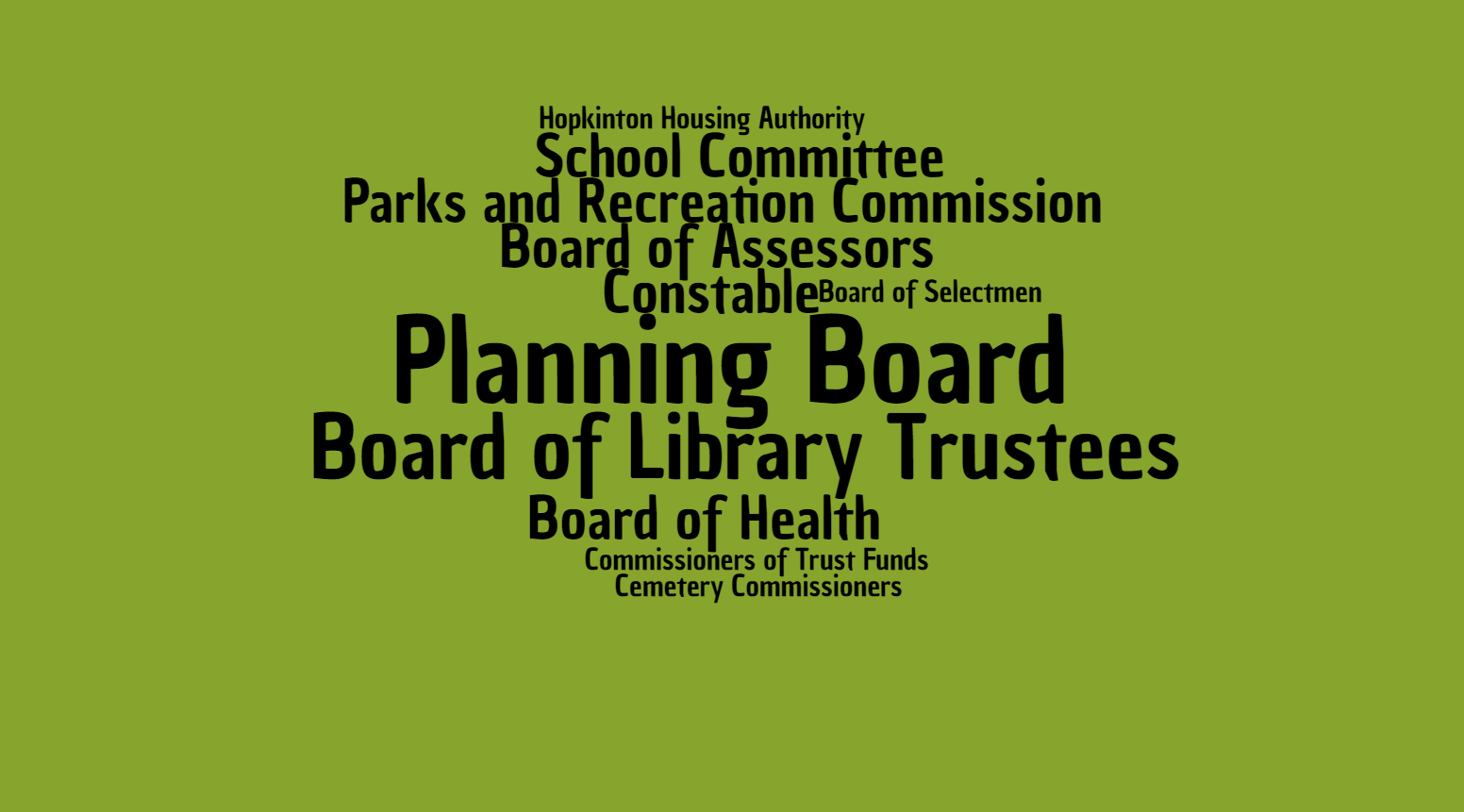 Offices on the May 15 Ballot
Board of Assessors, 3 Years, 1 Seat
Lya Batlle-Rafferty, Democrat
Board of Assessors, 1 Year, 1 Seat
Board of Health, 3 Years, 1 Seat
Elizabeth Whittemore, Democrat
Board of Health, 1 Year, 1 Seat
Board of Library Trustees, 3 Years, 2 Seats – Contested Race
Stanley D Pulnik, Unenrolled (incumbent)
June Harris, Republican (incumbent)
Margaret Wiggin, Democrat
Susan Kurys, Democrat
Board of Library Trustees, 1 Year, 1 Seat
Board of Selectmen, 3 Years, 1 Seat- Contested Race
John M Coutinho, Republican (incumbent)
Amman Haidri, Democrat
Cemetery Commissioners, 3 Years, 1 Seat
Claire Wright, Republican (incumbent)
Commissioners of Trust Funds, 3 Years, 1 Seat
Constable, 3 Years, 1 Seat
Constable, 1 Year, 1 Seat
Francis J. D'Urso, Jr., Democrat
Hopkinton Housing Authority, 5 Years, 1 Seat
Parks and Recreation Commission, 3 Years, 2 Seats – Contested Race
Christina Anderson, Democrat
Laura Hanson, Democrat (incumbent)
Amy Markovich, Republican (incumbent)
Planning Board, 5 Years, 2 Seats – Contested Race
Amy Ritterbusch, Democrat
Gary Trendel, Republican
Kenneth Weismantel, Republican (incumbent)
Muriel Kramer, Democrat
Planning Board, 3 Years, 1 Seat
Planning Board, 1 Year, 1 Seat – Contested Race
Irfan Nasrullah, Democrat
Al Rogers, Republican
School Committee, 3 Years, 2 Seats
Jennifer Devlin, Democrat
Meenakshi Bharath, Unenrolled
---
For more information, contact the Town Clerk's office at 508.497.9710 or townclerk@hopkintonma.gov. Click to read more on the Town Clerk's website.
If you are new to town or recently moved, the last day to register to vote is April 11, 2017:
Attention Candidates:
Candidates are welcome to email a candidate statement or a link to their campaign website, which we will be happy to post to our website along with info about all the other candidates. Please send to kristywilladsen@ehop.org.
---